Summer 2019 has been fun, and ridiculously hot but it is time to start thinking about fall fashion 2019. Many designers such as Chanel and Tom Ford have debuted their Fall 2019 line on the runways and it's safe to say, Fall 2019 is looking good! Fall 2019 is all about the 90s' and not just about all black everything. You'll see lots of gem color-tones, but the color of the season, drumroll pleases…PURPLE!  
Purple
Purple, not be confused with last year's color dubbed "Ultra Violet" is seen all over the runway. Purple can range from light purple to a darker almost blue like shade. Designers from Gucci to Michael Kors has featured the color purple through their fall 2019 fashion line. Purple can be flattering on nearly any skin tone, so make sure you find that perfect shade of purple that best fits you.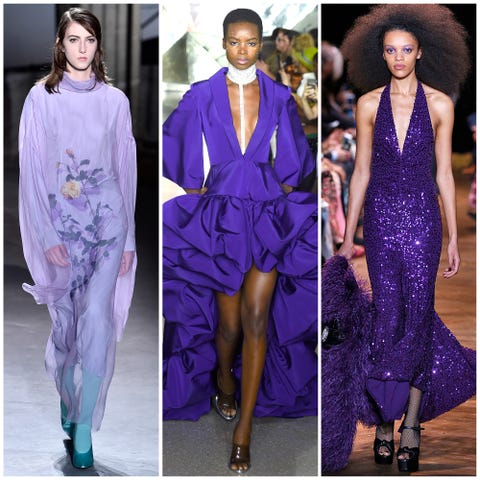 Capes
No, I'm not talking about a cape like the one Batman sports, I'm talking coat-capes. Capes are super flattering on any figure and they're the top-runner in fall outerwear. Chanel, being Chanel designed their cape in tweed, Marc Jacobs prowled down the runway in a leopard cape, and Hedi Slimane's additional collection for Celine made the best basic cape for everyday wear. You can find a cape in nearly any style this season. If you ever wanted to wear a cape-coat this is the time.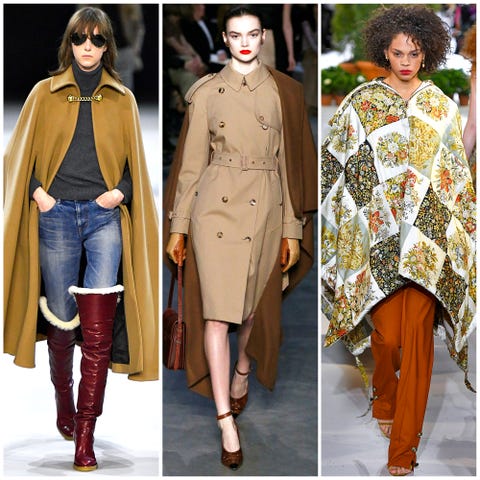 Feathers
If you remember the 90s' you'll remember seeing feathers on everything like clothing, pens, shoes, etc, well 2019 is no different. The fall 2019 runway had feathers on everything from jackets to shoes to hats. Personally, my favorite fall feather fashion is coming in strong by Christian Louboutin. An upgrade from last seasons "Mechante Reine" heels, you'll find feathery heels like the Marie Edwina line or my favorite the "Black Fairy " 100 mm stiletto pump, pictured below. 
Cinched Suiting
Ok, this one I personally am not a fan of, cinched suiting.  I am struggling to find the words to describe what cinched suiting is. When I hear or see cinched suiting, it reminds me of a woman wearing a man's suit that is way too large for her so she places a pretty belt around the waistline and calls it fashion. It is a boxy suit, usually with strong shoulders and decorated with a belt hence the name "cinched" I am short and on the I really love pizza side, so this clothing style does not suit me well.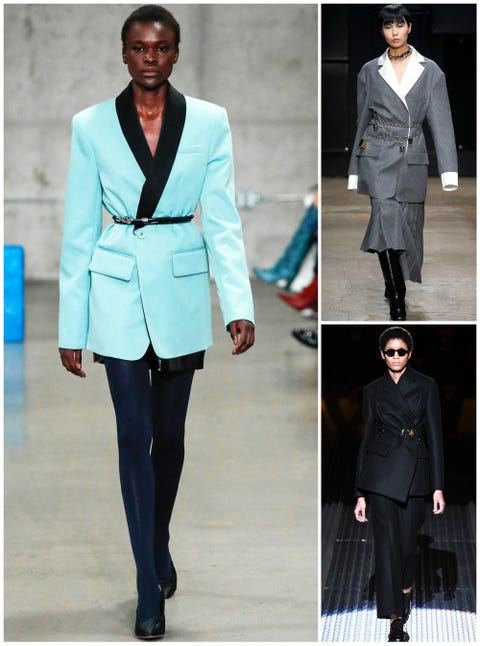 Satin
Yes! Satin is back for fall 2019. Let me begin by saying, satin looks extremely well on a nice summer tan, so I'm already excited about welcoming satin back into my wardrobe.  Satin is so hot right now, even Versace brought back their 90s' satin slip dress line with added flare. Satin looks good on every body shape. The fabric has a way of highlighting and slimming out curves like no other fabric.  
Asymmetrical Necklines
Last year's fashion was the cold shoulder/ off the shoulder style, this year we are moving on to Asymmetrical necklines.  This neckline is a favorite of mine, is slims out my broad shoulders and makes me look taller.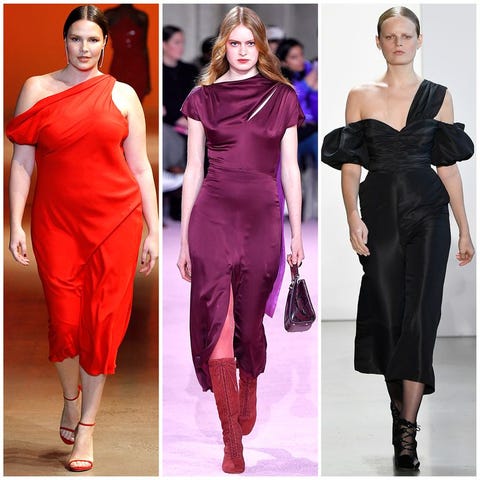 Micro Bags
Those itty-bitty bags are packing a big punch this season. Every designer has a micro bag out right now. I'm not sure what you would put in them since your phone can't fit, maybe a key and a lipstick?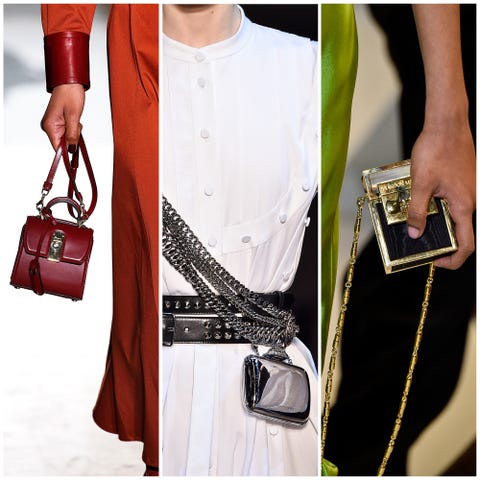 Ren-Faire
Interestingly, the Renascence fashion is trending. Ren-Faire is a square neckline, popular within women's fashion during the renascence. This is a very bold neckline which may be tricky to pull off on everyone. This style fits a thinner, narrow shoulder beautifully.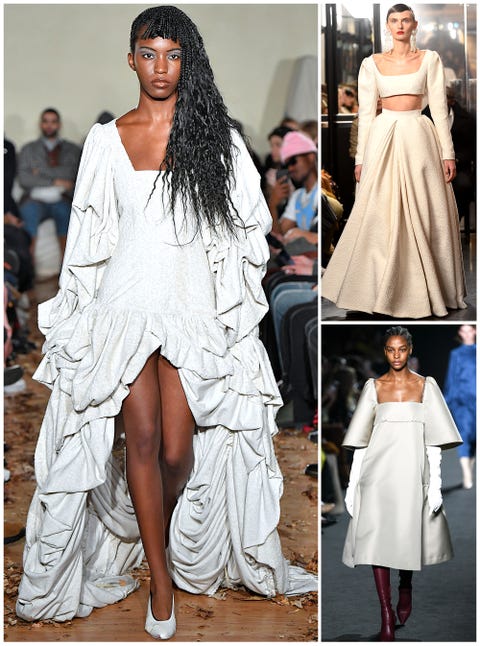 It's safe to say that Fall fashion 2019 is coming in strong with some interesting designs. A trend no one mentions that I personally would love to see more people do is, WEAR WHAT YOU WANT. Who cares what Bella Hadid is wearing, or if Chanel added a broach to a new coat. People will remember you for being you, not what designers want you to buy. If you like wearing Nikes with a dress, DO IT, if you like wearing stripes and polka dots, more power to you.
Lets us all wear confidence on our sleeves this season!
How are you feeling about the first look into Fall Fashion 2019?
Are there any styles you can't wait to try on or even sell in your shop?
Comment below your thoughts on Fall Fashion 2019.